The latest resources and information concerning coding, payment and coverage of TransCarotid Artery Revascularization (TCAR).
TCAR Reimbursement
The information provided herein is for informational purposes only and is intended to explain coverage, coding, and payment policies potentially applicable to TransCarotid Artery Revascularization (TCAR) using Silk Road Medical's ENROUTE Transcarotid Neuroprotection (NPS) and Transcarotid Stent System (TSS).
TCAR may be described by the same Current Procedural Terminology (CPT®)1  codes and International Classification of Diseases codes (10th revision, clinical modification)2  (ICD-10-CM) as Carotid Artery Stenting (CAS). The ICD-10-CM codes crosswalk to Medicare Severity Diagnosis Related Groups (MS‐DRG) for the purposes of hospital inpatient reimbursement. Medicare and most other insurers typically make payment for services based on fee schedules tied to CPT codes or MS-DRGs. Reimbursement policies and rates applicable to TCAR may be similar to those applicable to CAS.
Quick Links to Reimbursement Resources:
For reimbursement questions about Silk Road Medical products, please contact our Health Economics & Reimbursement staff at reimbursement@silkroadmed.com.
TCAR Reimbursement Guide
View information on commonly billed hospital and physician codes, Medicare National Average payment rates, and Medicare coverage for patients at high risk and standard surgical risk.
C-Codes for the TCAR Procedure
C-Codes are generally used only for the outpatient setting. TCAR and transfemoral carotid artery stenting procedures only receive CMS coverage when performed on an in-patient basis. The following C-codes are therefore used primarily for internal tracking purposes only.
| Product | HCPCS C-code |
| --- | --- |
| ENROUTE® Transcarotid Neuroprotection System | C1884 - Embolization protective system |
| ENROUTE® Transcarotid Stent System | C1876 - Stent, non-coated/non-covered, with delivery system |
| ENROUTE® .014" Guidewire | C1769 - Guidewire |
| ENROUTE® Enflate Transcarotid RX Balloon Dilatation Catheter | C1725 – Catheter, transluminal angioplasty, non-laser (may include guidance, infusion/perfusion capability) |
| Silk Road Medical Micro-Introducer Kit | C1894 - Introducer/Sheath, non-laser |
Carotid Artery Stenting & TCAR Coverage
Medicare (CMS) Coverage
TCAR is covered under NCD 20.7 for Percutaneous Transluminal Angioplasty (PTA), specifically under these indications:
B3 – FDA-Approved Post Approval Studies (ex. VQI TSP – NCT #02850588)
B4 – Patients at High Risk for CEA (ex. CMS Carotid Artery Stenting Facilities)
Below are the patient populations that may be eligible for Medicare coverage depending on if the hospital is certified as a CMS CAS Facility or the provider is participating in a CMS-approved study like the VQI TSP.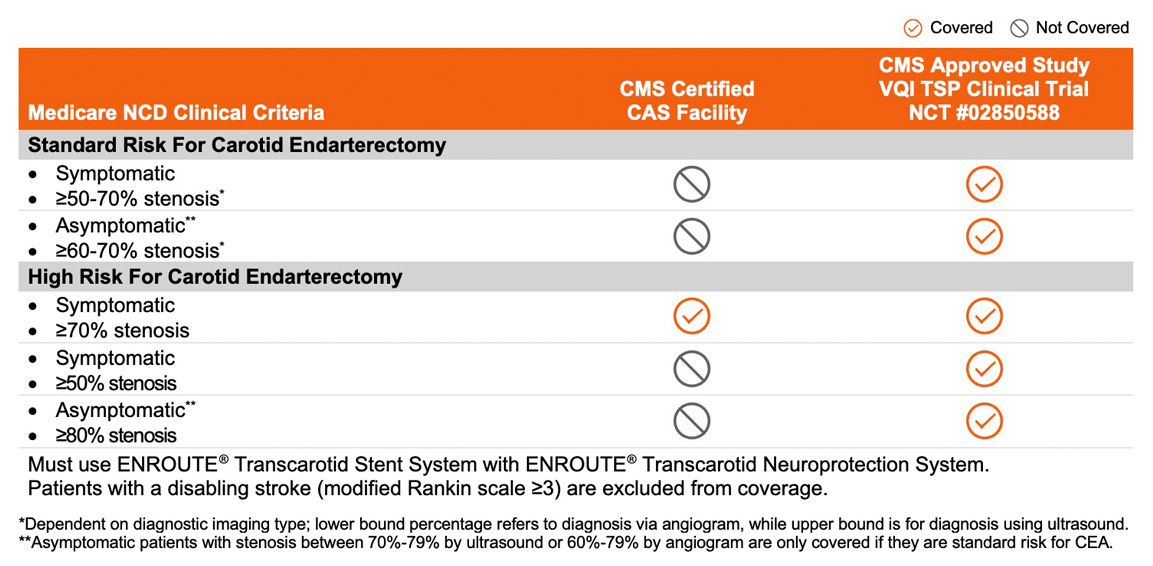 CMS Definitions of High Surgical Risk
Patients at high risk for CEA are defined as having significant comorbidities and/or anatomic risk factors (i.e., recurrent stenosis and/or previous radical neck dissection) and would be poor candidates for CEA. The determination that a patient is at high risk for CEA and the patient's symptoms of carotid artery stenosis shall be available in the patient medical records prior to performing any procedure.
Significant comorbid conditions include but are not limited to:
Age ≥ 80
Prior head/neck surgery or irradiation
Restenosis post CEA
Surgically inaccessible lesion
Permanent contralateral cranial nerve injury
Contralateral occlusion
Congestive heart failure w/ NYHA class III or IV
Left ventricular ejection fraction ≥ 30%
≥ 2 diseased coronaries with ≥ 70% stenosis
Unstable angina
Myocardial infarction > 72 hours and < 6 weeks prior to procedure
Abnormal stress test
Need for open heart surgery
Need for major surgery (including vascular)
Uncontrolled diabetes
Severe pulmonary disease
Cervical spine immobility
Laryngeal palsy or laryngectomy
Severe tandem lesions
Bilateral stenosis requiring treatment
Chronic renal insufficiency (Creatinine ≥ 2.5 mg/dl)
This is not an exhaustive list of high-risk factors for CEA. Other conditions were used to determine patients at high risk for CEA in carotid artery stenting trials and studies.
Patients that do not meet high risk criteria for CEA are considered standard surgical risk.
CMS Definition of Symptomatic
Symptoms of carotid artery stenosis include carotid transient ischemic attack (distinct focal neurological dysfunction persisting less than 24 hours), focal cerebral ischemia producing a nondisabling stroke (Modified Rankin Scale < 3 with symptoms for 24 hours or more), and transient monocular blindness (amaurosis fugax). Patients who have had a disabling stroke (Modified Rankin Scale > 3) shall be excluded from coverage.
CMS Definition of Stenosis Measurement
The degree of carotid artery stenosis shall be measured by duplex Doppler ultrasound or contrast tomography angiography (CTA) or magnetic resonance angiography (MRA) or carotid artery angiography and recorded in the patient's medical records.
TCAR Surveillance Project
Effective September 1, 2016, hospitals participating in the Society for Vascular Surgery (SVS) Vascular Quality Initiative (VQI) receive CMS coverage for Transcarotid Artery Revascularization (TCAR) procedures entered into the VQI Carotid Artery Stenting module. According to the National Coverage Determination (NCD) 20.7 for Percutaneous Transluminal Angioplasty, the TCAR Surveillance Project is an FDA-approved post-approval carotid stenting study. CMS will reimburse hospitals and physicians for symptomatic and asymptomatic patients at high risk or standard risk for traditional carotid artery surgery who participate in the TCAR Surveillance Project. View the CMS coverage letters detailing approval of the TCAR Surveillance Project for high-risk and standard surgical risk patients.
Under NCD 20.7, the TCAR Surveillance Project does not require the study sites to get approval from the Medicare Administrative Contractors. For billing purposes, facilities and providers will submit claims for the TCAR Surveillance Project using National Clinical Trial (NCT) identifier 02850588.
ROADSTER 3 Study
Silk Road Medical is conducting an FDA post-approval study of TCAR in standard risk patients with significant carotid artery disease to evaluate real world usage of the ENROUTE Transcarotid Stent System when used in conjunction with the ENROUTE Transcarotid Neuroprotection System in patients at standard risk for adverse events from carotid endarterectomy (CEA).
| ClinicalTrials.gov Identifier | NCT02855490 |
| --- | --- |
| Brief Title | Post-approval Study of Transcarotid Artery Revascularization in Standard Risk Patients With Significant Carotid Artery Disease |
| Intervention | Procedure: Transcarotid Artery Revascularization (TCAR) Carotid artery revascularization treated with the FDA-cleared ENROUTE Transcarotid NPS in conjunction with the FDA-approved ENROUTE Transcarotid Stent |
| Study Design | Observational Model: Case-Only Time Perspective: Prospective |
Commercial and Other Third-Party Payer Coverage Policies
Coverage varies regionally and providers should verify insurance coverage before performing procedures. Please contact individual insurance carriers to determine eligibility.
Documentation
Clearly documenting procedures has become increasingly more important for both physicians and hospitals, especially with the much greater specificity of ICD-10 when compared to ICD-9. A thorough description of a patient's primary and all secondary diagnoses in that patient's history and physical (H&P) along with detailed procedure dictation is the only way to ensure that a hospital will receive the appropriate MS-DRG assignment for that patient discharge as well as to ensure that the physician is reimbursed properly. Documentation is also critical for any post­ procedure audit by a payer such as CMS with the Recovery Audit Contractors (RACs).
Shared Decision-Making Tool: Patient Consent for TCAR Procedure
Download a copy of the article describing informed consent for TCAR procedures and template used at the University of Rochester Medical Center – Strong Memorial Hospital.
Epic UserWeb
3

TCAR Tools

VQI TCAR documentation tools on Epic UserWeb developed by Dr. Michael Stoner at the University of Rochester Medical Center. Epic UserWeb login is required to access the content.
Sample Dictation Report
View a sample report to assist physicians in dictating the TCAR procedure.
Request for Prior Authorization
Carotid artery stenting and TCAR are covered under Medicare's NCD Manual Section 20.7 if the appropriate coverage criteria are met. Some non-Medicare commercial payers may have additional coverage requirements. Such payers may also require prior authorization before carotid artery revascularization can be performed.
Prior Authorization Guide
Download this resource with suggestions to assist physicians' offices in submitting prior authorization requests for patients who may benefit from the Transcarotid Artery Revascularization system.
Sample Prior Authorization Letter
This is a sample template to be used by physicians' offices to request coverage for the ENROUTE® Transcarotid Stent System in conjunction with the ENROUTE® Transcarotid Neuroprotection System.
Denials from Payers
Some non-Medicare commercial payers will deny coverage for either carotid artery stenting or the TCAR procedure. A request for reconsideration should be sent. Such requests should always include a detailed explanation of the medical necessity for the individual patient and any other supporting material such as information about the TCAR procedure itself.
References
1 CPT copyright 2022 American Medical Association. All rights reserved. CPT is a registered trademark of the American Medical Association.
2 10th revision of the International Statistical Classification of Diseases and Related Health Problems.
3 © 2022 Epic Systems Corporation.
Silk Road Medical provides this content for informational purposes only. The information contained herein is gathered from various publicly available sources and is subject to change without notice. Silk Road Medical cannot guarantee (either implicitly or explicitly) success in obtaining coverage or payment. Reimbursement for medical products and services is affected by numerous factors. It is always the provider's responsibility to determine and submit appropriate codes, charges, and modifiers for services that are rendered. Actual codes and/or modifiers used are at the sole discretion of the treating physician and/or facility. Providers should contact their third-party payers for specific information on their coding, coverage, and payment policies. This guide is in no way intended to promote the off‐label use of any medical device.
Last Updated July 2023