The ROADSTER Study* presents pivotal results in a prospective, single-arm, multi-center trial of the TCAR Procedure using the ENROUTE® Transcarotid Neuroprotection System (NPS) in high surgical risk patients with carotid artery stenosis.
*J Vasc Surg 2015;62:1227-35
CEA-Like Neuroprotection
The TCAR Procedure is designed to protect the brain from stroke throughout the carotid revascularization procedure. The ENROUTE Transcarotid NPS temporarily reverses blood flow during the TCAR procedure to divert micro and macro emboli away from the brain. Even small emboli, not large enough to cause a major stroke, can cause a minor brain infarction and impact cognitive function in the near and long term.
Below are the results of the TCAR Procedure in patients at high risk for surgery compared to standard risk patients undergoing carotid endarterectomy (CEA) for the treatment of carotid artery disease.
 

TCAR 30-Day All Stroke

HIGH SURGICAL RISK PATIENTS

ROADSTER* STUDY n=141

 

CEA 30-Day All Stroke

STANDARD SURGICAL RISK PATIENTS

CREST STUDY n=1240
Less Invasive and Patient-Friendly
The TCAR procedure requires a smaller skin incision than traditional CEA procedure and can be performed more often using local anesthesia.  With a smaller incision, cranial nerve injury (CNI) rates are reduced and scarring is minimized.
Cranial Nerve Injury Rates
TCAR – ROADSTER Study

0.0%

CNI unresolved at 6 months

CEA – CREST Study

 
CNI unresolved at 6 months
Actual patient scars – TCAR incision
(Click for larger image)
Transcarotid Efficiency
The TCAR procedure is completed through a small needle puncture, rather than a surgical incision in the carotid artery.  This transcarotid approach reduces the amount of time needed for the patient to be on reverse flow compared to the arterial clamp time of a carotid endarterectomy (CEA) procedure.
0

10

minutes

REVERSE FLOW TIME

TCAR – ROADSTER Study n=141

0

31

minutes

CLAMP TIME

CEA – NASCET Study n=1,4154
ROADSTER Study Clinical Results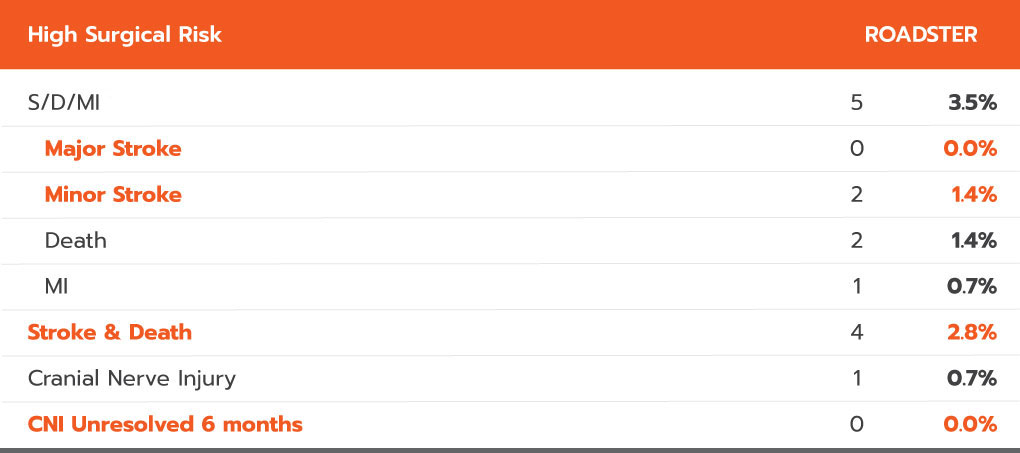 ROADSTER Study Demographics and Technical Results
Acute Device Success
ENROUTE NPS delivered, reverse flow established, device removed from vasculature
Technical Success
Acute Device Success with successful introduction of interventional tools.
Procedural Success
Technical Success without the occurrence of MAE 30-days post procedure